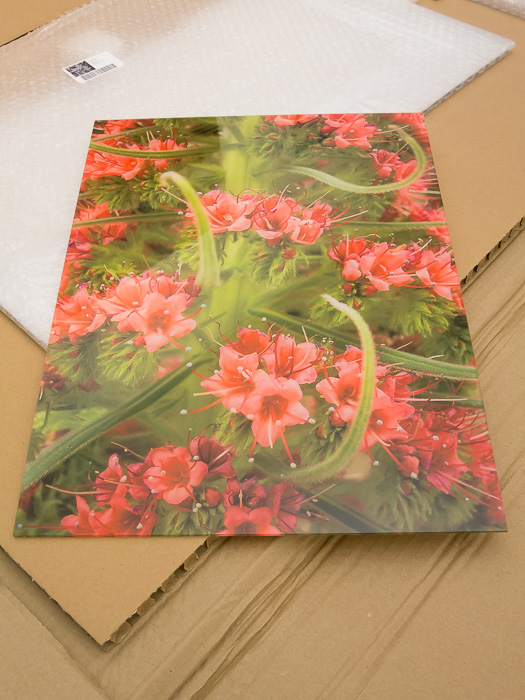 10 May

How I print my pictures (part 2)

As mentioned in part 1, this post has been in my drafts folder for some time already. So prices that are mentioned below have probably changed in the meantime.

After my previous post about printing my images at Authentic, I thought that it would be useful to describe my experience with a newcomer on the market for printing images in Belgium (and France). Zor.com is a new internet printer, specialized in direct printing on several types of boards in a relatively limited range of sizes. Where they differ from the many other printers available today on internet is their prices. Surprisingly low compared to their competition.
They print on Dibond, acrylic glass, forex, carboard, and canvas.


To make it clear from the beginning, I was actually contacted by a Zor representative asking me to speak about them on my blog in exchange for a free print. As I was not bound to use their own publicity or to be positive about their work, I decided to accept the deal. But, before giving them a positive answer, I immediately tested them by ordering two prints, one on Dibond and the other on acrylic glass. I was wondering if there would be a difference in quality or delivery speed between this 'anonymous' order and the one I would do in exchange for a post about them.

So, my first order ('anonymous'), done on a Sunday evening, was for:
One 30×40 direct print on Acrylic (Image #1 below, lots of fine details, highly coloured and luminous image) (price: 6.99 EUR)
One 30×60 direct print on Dibond (Image #2 below, darker print, large area of uniform colour with slow gradient, excellent to detect printing banding) (price: 9.99 EUR)
One package of double-sided tape for hanging on walls (3M product) (price: 3.94 EUR)
Shipment for the whole order was 5.95 EUR (the server calculated a weight of 1400g which meant 5.95 EUR for postage to Belgium)
Total price: 26.88 EUR, that I payed through Paypal (they accept several ways of paying). Very nice price: you don't even get a print for that price with other printers!
Ordering was very easy and went smoothly. I did it as a guest, without creating a profile. After completing the order, I immediately received an automatic email with details of the order, and announcing another email when my order would ready and on its way.
Their FAQ announces that my order should reach me within 4 working days. So I was expecting my prints before the end of the week.
However, I still had no new after 6 working days…
I finally received my package after 7 working days, without having ever received any email about the advancement of the order.
They had started working only very recently (my order was #311) so I supposed that this was still a small glitch in their system.
Small negative point.
After accepting their offer for a free 60×90 cm print in exchange for speaking about them here, I ordered that print, this time creating a client profile, hoping this would improve the follow-up of my order. I chose to print an image with a lot of small details and subtle colours (Image #3 below).
Of course, I wondered how this order would be treated ? Faster to leave a positive impression ? Better quality ?
After 4 working days (as announced this time), I received my second order.
Improved logistics or rushed to please me and get a good review ?
In both cases, the packages I received were huge (90 x 70 x 7 cm for the 30×40 + 30×60 cm prints, and 110 x 85 x 7 cm for the 60×90 cm print), in sturdy cardboard. Pictures were very well protected. (see images)
Both packages were identical in quality and solidity: all prints were individually packaged in bubble-wrap. Each wrap was identified by its own referenced label with a B&W miniature of the printed image. The bubble-wrapped pictures were prevented from moving by small foam blocks on four sides and the double-sided tape package that I had ordered was delivered with a complimentary bubble level!
OK, packages were very good. What about the quality of the prints themselves ?
The prints were very good, similar in quality to the professional direct prints that I had done before (see my previous post).
For my first order ('anonymous'), the borders of the Dibond print were not very clean. They were straight but still had some plastic shavings hanging from the sides (see image). Not a big problem but this has never been the case with the professional prints I had before. My second (complimentary) order was much cleaner. Again, an improvement in the production process or more attention paid to my print because it would result in a review ?
The corners of the Dibond prints were slightly rounded (see image). Almost not visible but present nevertheless. This prevents being hurt by the very sharp corners of the Dibond plates. My usual professional prints have square corners (although it is probably also possible to ask for rounded corners).
Some very slight banding was visible in the sky of one of the Dibond prints, but only visible under close scrutiny (see below).
The acrylic print was very well protected, with a plastic sheet covering the whole surface, protecting it from scratches. The plastic sheet held very well but could be removed easily. The back of the print is covered in white ink to reproduce the white surface of a classic paper or Dibond print. This also protects the image printed on the back of the acrylic glass.
Colours for all prints were quite close to the expected ones (my screen is colour-calibrated). The first ones were a bit darker than what I see on my screen but it could be due to the fact that my screen is too luminous. I need to recalibrate it asap! And indeed, increasing slightly the overall luminosity of the image in Lightroom before exporting it gave me a much better result for my second order. I did not notice any difference in quality between my two orders.
In conclusion: excellent quality/price ratio!
Of course, it will never beat the quality of something like a Diasec printing (print on photographic paper, between acrylic glass front and a Dibond back) but these cost much more. In the end, these direct prints at zor.com are still a very good choice if, like me, you are looking for large, good quality prints at a reasonable price.
Although I did not do a direct comparison by printing the same image at both printers, I could see that the quality of the Dibond prints ordered at zor.com was very close to the one I got from the professional prints done at Authentic.
The disadvantage of such a printer for me is the fact that they have a limited range of sizes. I am often printing in panoramic format and this was (at the time of ordering) limited to 30×60 cm. Tiny for me… Authentic can print on Dibond up to 300 x 150 cm! And any size is possible there.
Another difference is also that zor.com does not offer any hanging system (except for the 3M double-sided tape) while others, such as Authentic, offer the possibility of preparing your print for hanging with various systems (not cheap though). This was no problem for me as I take care of the hanging system myself. I will describe how I do that in future post.
The price is of course very competitive at zor.com: I could not find anyone else doing direct prints at these low prices, especially considering the quality of the results.
In conclusion, the quality of the Dibond and Acrylic prints at zor.com was very good, especially considering their very low prices. If you want nice direct prints at a very reasonable price, you must try them asap!
As for me, I will certainly order again at zor.com, as well as at my usual provider, Authentic.